The Replay feature is only enabled while reviewing a Session.
Click on the Review Progress icon


Double click the Session that you would like to replay.
When you see the Graphical display of the Session, the Session is available for replay.
To replay the selected Session, click the Run menu and select "Replay HRV Session".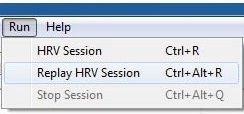 The Session will replay as if it were occurring in real time. All the controls will behave as if you were running a live Session, including the Stop and HRV Graph options.
You may also create or edit Journal notes
If you would like to add Annotations to a certain section of the Session, hold the Shift key and click on the place where you would like to add the annotation.
You may change the view in the individual window by clicking on the selection arrow in the upper right corner of each graphical display window.