If you are already registered on the Resource Center and have either forgotten your password, or would like to change it to a custom password of your choice, follow the directions below. If you aren't sure if you are a registered member or you aren't sure which email address you are registered under, call HeartMath Tech support at 800-450-9111
 
From the HeartMath, LLC web site home page – www.heartmath.com, click "Login" from the upper right hand corner.

Click on the "Resource Center Login" button.

Now either enter your login information or click "Set New Password".
Note: if you are logging in,with a user name and password that you already have, you do not need to proceed any further. If you would like to or need to make changes, please proceed.
You'll be asked to enter your email address and click the "Get New Password" button. This will only work if you are registered on the Resource Center with that same email address.
You will then receive an email with a link. Click the link to open the web page for resetting the password.
 
The web page will already have auto-generated a password which you can either use or change. If you choose to change it, the password you create must be a "Strong" password and the indicator will tell you if it is or isn't.
NOTE: When the system generates a new password, you have a chance to choose your own password. All you need to do is highlight the password above the box and change it to the password of your choice. As long as the indicator shows "Strong", you can click "Reset" and that's it. Now you can navigate back to the Resource Center and log in.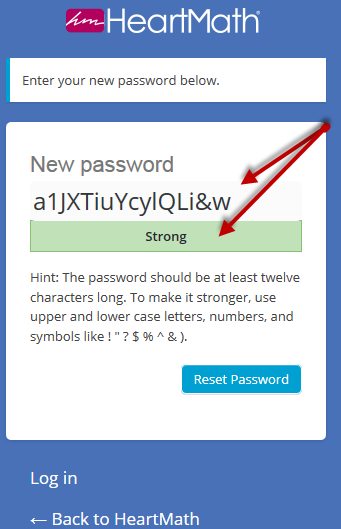 Now your password has been reset and you are ready to use the Resource Center.