HeartMath Experience Assistance
If you are unable to login to the HeartMath Experience.
Have your Enrollment Key at hand and use the following steps.
Please Note: The Enrollment Key is a one-time use and cannot be shared.
However, if you don't have time to complete the entire 90-minute program, you just login to your account and you can pick up where you left off or review any portion of it, at any time.
Go to https://experience.heartmath.com
Click the Login button to see the following screen.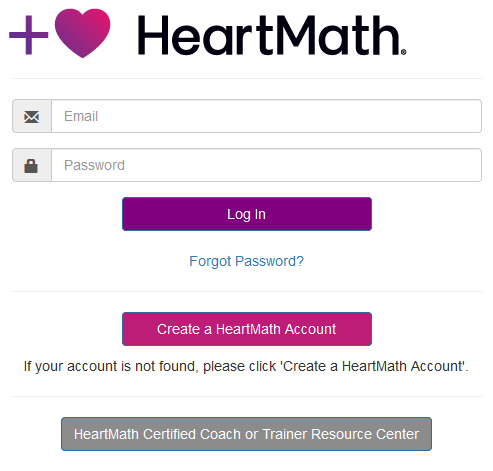 Login Procedure:
Enter your email address, password and click Login.

If that fails, the next step is to click the Forgot Password and enter your email address.

If the system finds your email, you will receive an email to reset the Password.
Please Note:
If the system does not find you it will tell you the email address is not recognized.
In that case, click – Create a HeartMath Account and create an account.
Once you have created an account, go back to the beginning and Login.
If you are still having difficulties, please contact HeartMath Technical Support.
[email protected]