Please ensure to keep the Bluetooth Sensor charging at least for 2 hours before you can start using it. The battery life is very long and should not need recharging for quite some time.
By Definition:
Pairing: Syncing a Bluetooth device to your phone, iPad etc.
Bonding: Is the act of syncing to an app within your device.
A lot of times, people will "Pair" the HeartMath Bluetooth Sensor without knowing that with the HeartMath Bluetooth Sensor you "Bond" it with the app. If you do pair it with your device the app will not work. In that case, please follow the instructions below.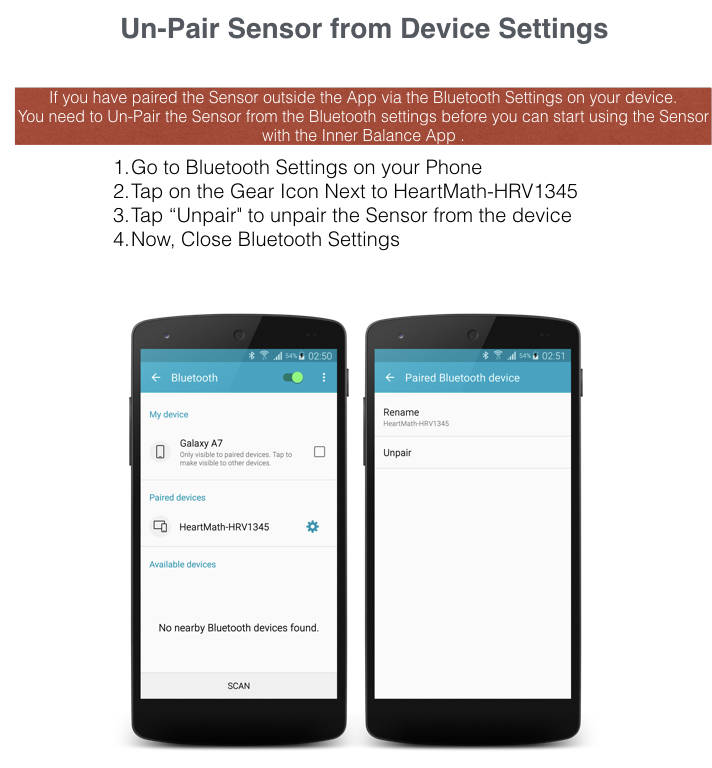 Turn off Bluetooth once to save the settings change and Turn it back on again.
Now,
Open the Inner Balance App.
Go to Settings (Small gear Icon at the top left corner).
Go to App and Sensor Info.
Tap on – Forget All Sensors.
Close the Inner Balance App and Restart your device.