Open the emWave program.
Click the Balloon icon.

 
Click the Coherence Coach feature.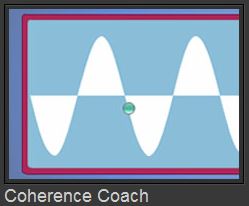 Click the Start button to begin:

Use the slide bar to adjust the Breathing Pacer to a comfortable pace for you.
You may adjust the Audio Volume for the Coherence Coach audio instructions and volume control for the music in the Animations feature.
Using the Main Breathing Pacer screen, you will get audio instructions from the Coherence Coach featuring the Quick Coherence technique with a focus on Heart Breathing.
Once you select one of the Animations, music will be the only Audio feature.
If you choose to view one of the Animations, your choices will be:
 
Each Animation is an individual variation of the Coherence Coach.
Once you have set the Breathing Pace on the main screen, the pace is reflected in the wave forms of each of the Animations.